THE GOOD AND PERFECT FATHER
The location of the meeting was a small masonry building in the village of Ganda, Uganda. Inside some twenty men sat around simple wooden tables talking. The air was musty and humid except for a slight breeze drifting through the open windows, but even it contained dust stirred from the narrow red clay lane just outside where children were playing.
After a few moments of visiting, a middle aged Ugandan pastor stood and brought the meeting to order. He welcomed us and thanked everyone for attending the informal gathering of pastors from the surrounding region. A few of them had walked hours to attend the round table discussion with a visiting pastor from the United States.
The guest was introduced, stood, and expressed the honor of sitting among the men, men who were giving their lives as pastors, the assignment of caring for others on their spiritual journey of following Christ.
The first question for discussion was this. In their opinion, what was the primary need toward the greater spiritual health of Uganda? After a moment of silence an older man whose face hosted deep wrinkles when he smiled, responded softly, but confidently, "We need good fathers." Others around the tables nodded their heads in agreement.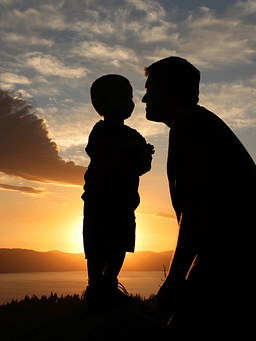 With all eyes now on their American counterpart they awaited his response. His words were few, "This too is our great need in the United States; the return of fatherhood as defined by God."
I don't know the status of every culture, but certainly one of the travesties of our day in many of them is the diminished, and in some instances, near absence, of genuine fatherhood. There are many men who have sons and daughters, but unfortunately the original role and intention of fatherhood has become distorted, faint, and frail. A quick internet browse will reveal a large volume of information concerning the negative effects of fatherlessness and poor fathering on children and ultimately upon cultures.
One definition of hopelessness is presenting a problem without presenting a solution. There is no denying the problem of genuine fathering is great, but there is a solution. There is definitive hope, but it requires three things.
First: The willingness to realign fatherhood with its archetype.
Second: As the characteristics and qualities of the archetype are recovered, they must come with the intention of application.
Third: The relentless spirit of pursuit. The commitment to see the life-giving principles of the kingdom of God reinstated in fatherhood.
You may be thinking the current issue and problem is too great to change, but what is impossible for people, is not impossible for God.
Yes, there is hope and healing if you have been abandoned, abused, or injured by the person who should have been your nourisher, protector, and upholder, your father.
Yes, there is hope for you who want to be good fathers but do not know how, even if you did not have that example in your own life. You can be the father you want and know you should be.
Yes there is the certain hope of peace, purpose, and the fullness of life when you surrender self-serving, self-gratifying, and self-seeking ways to turn to the archetype of fatherhood and giver of life. He will turn what you see as impossibilities into possibilities.
There is no denying God is a mystery and incomprehensible, but he has also created open access to relationship with him through the redemptive work of Jesus Christ. He has presented himself characteristically as a father, a good father. Yes, he is the good and perfect Father.
In considering what you've read let me end with two promises from God the Father, and he never breaks a promise.
"And I will be your Father, and you will be my sons and daughters, says the Lord Almighty."2 Corinthians 6:18
"I will never fail you. I will never abandon you." Hebrews 13:5
It's easy to see why John wrote this in his letter to all the followers of Christ, See how very much our Father loves us, for he calls us his children, and that is what we are! 1 John3:1
Until next time,
Craig
Our Father in heaven, Your name be honored as holy.
Past blogs from the Living the Lord's Prayer series.
Subscribe to the daily devotion HERE